Original Article: Public Building Commission
FOR IMMEDIATE RELEASE
11/04/2015
The Public Building Commission (PBC) has been awarded the Illinois Governor's Sustainability Award for its innovative environmental program, one of 19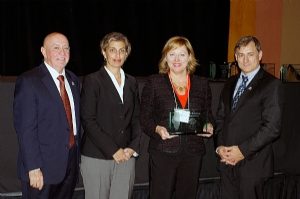 Illinois companies or organizations to receive the recognition.
Called the "Emmy Awards for Sustainability," the awards were presented by the Illinois Sustainable Technology Center (ISTC) during a ceremony in Chicago on October 27 for organizations that for "demonstrated leadership in implementing sustainable principles and practices," according to ISTC.
"We are pleased to accept this award and to be acknowledged for our innovative environmental program and work," said Felicia S. Davis, Executive Director of the Public Building Commission. "From site prep and remediation to green building materials and sustainable design, our work is guided by our clients whose goal is to make a positive impact on the environment and the communities we serve."
The PBC's environmental mission goes beyond the remediation of individual project sites and supports the environmental and economic health of the larger community. With urban development sites that are often located in areas challenged by industrial contamination, and in neighborhoods suffering from blight, PBC's environmental program serves as a catalyst for development that brings vital community anchors into neighborhoods. A thorough and multipart project planning process, guided by program level standards and expectations, and regulatory requirements, has allowed PBC to redevelop impacted sites throughout Chicago into points of civic pride.
By using an integrated planning approach, best management practices, innovative approaches like in-situ remediation and integrating sustainable design strategies and LEED, the PBC goes beyond standard practices and raises the bar for environmental excellence on public projects. PBC's fully integrated environmental program focuses on planning and integration of environmental management, and best available environmental technology and sustainable design. Since 2008, the PBC has successfully remediated 31 sites for our clients, from Chicago Public Schools to the Chicago Public Library to prepare them for development.
PBC has a successful track record of purchasing former industrial and other environmentally challenged sites, cleaning the sites and constructing community anchors such as schools, libraries, parks and first responder facilities. Under the PBC's nationally recognized, award-winning program, clean-up is coupled with sustainable design for "greener" new facilities which conserve Chicago's resources, reduce the impact on the environment and provide lasting economic benefits for our communities.
The PBC, on behalf of its clients, has developed 70 LEED certified buildings, and together with the City of Chicago and its Sister Agencies, has achieved LEED Certification on 90 municipally-owned facilities. In June 2011, PBC Board Chairman Mayor Rahm Emanuel made a commitment to double the number of LEED-certified facilities by 2015. At the time, certification had been achieved on 41 facilities. By the first quarter of 2014, with the many LEED buildings developed by the PBC, the City surpassed this goal, more than a year ahead of schedule.
According to the ISTC, the Illinois Governor's Sustainability Awards have been presented each year since 1987 to organizations in Illinois that have demonstrated a commitment to environmental excellence through outstanding and innovative sustainability practices. Any Illinois public or private organization is eligible to apply for the award. Winners are selected through a rigorous process of review and examination by ISTC technical assistance experts.
About the Public Building Commission: The Public Building Commission of Chicago manages construction and renovation projects for the City of Chicago and its sister agencies. Mayor Rahm Emanuel serves as the PBC's chairman. Felicia S. Davis serves as the Executive Director of the PBC. Additional information about the PBC and its projects can be found at www.pbcchicago.com. You can also follow the Public Building Commission of Chicago on Twitter, Facebook, LinkedIn, Pinterest and Flickr.